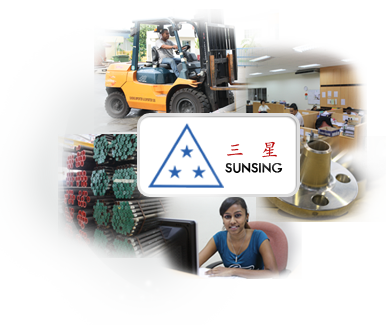 Sunsing Importer & Exporter Sdn Bhd was founded during the 1980s to serve our domestic steel industries.
During the 1990s, under the leadership of our Managing Director; Kathy Wu, Sunsing Importer & Exporter Sdn Bhd found a new identity in the market by actively supplying & supporting our domestic Oil & Gas markets.
By year 2000, Sunsing Importer & Exporter has grown to become one of the leading suppliers for quality pipes, API pipe, fittings & flanges from renowned & reputable manufacturers from all over the world.
For more than 20 years, we have been serving numerous refineries, petrol-chemical plants, power plants, shipbuilding industries, water treatment plants, pulp & paper factories, offshore projects & multiple engineering industries. We strongly believe that our Company is extremely well tailored to the needs of our clients.

Sunsing Importer & Exporter strongly believes & support our Prime Minister's vision for 1 MALAYSIA